Joey Bunch (Colorado Politics)- Races for the legislature, county commissions and district attorneys across Colorado got a big kick in donations once mail ballots went out, Colorado Ethics Watch found by parsing campaign disclosures on file with the state.
Outside groups spent more than $3.7 million of the $11.5 million they put into state races after Oct. 24, Ethics Watch found
Click here to read the full story in Colorado Politics.
Click here to read the full report by Colorado Ethics Watch.
Approximately one-third of all the outside spending on Colorado state candidate elections happened between October 24, when polls opened, and Election Day, according to a review of public records conducted by Colorado Ethics Watch.
Under Colorado law, outside groups that make independent expenditures to support or oppose candidates during the last days before a primary or general election must file reports of their spending within 48 hours. During the rest of the year, independent expenditures are disclosed in reports filed on a calendar that varies depending on how close it is to an election. By reviewing these reports, Ethics Watch was able to determine that approximately $11.5 million was spent on disclosed independent expenditures on Colorado state and local races during 2016. Of this total, just over $3.7 million was spent while polls were open.
Nearly a million dollars, or eight percent of all independent expenditures during 2016 occurred on a single day, October 28. This spending spike was largely due to a $439,855 expenditure made by a group called Colorado Safety & Justice, which in turn had just received a $420,000 donation from businessman George Soros. The expenditure was made to support Jake Lilly, a candidate for District Attorney in the First Judicial District (Jefferson and Gilpin Counties).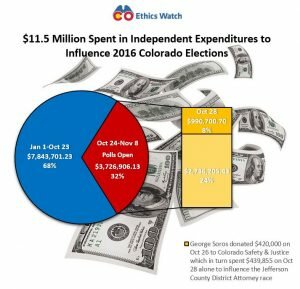 Joey Bunch (Colorado Springs Gazette)- If money equals political speech, then the voice of God has largely been silent in Colorado during this election.
Normally a powerhouse bloc, faith-based political organizations' donations have been rare, campaign finance reports indicate, partly because neither Donald Trump nor Hillary Clinton inspire Christian fervor. Typical wedge issues such as abortion and gay rights aren't on the ballot to drive political contributions or turnout.
Click here to read the full story in the Colorado Springs Gazette.
Editorial Board (Greeley Tribune)- We have a hard time placing a lot of blame on area schools and school districts for their potential violations of Colorado's Fair Campaign Practices Act.
Ultimately the districts are responsible for their actions so, yes, some of the blame does land at the feet of those districts. That said, it appears they did every reasonable thing within their power to avoid such a misstep and when they found out a mistake had been made, then moved quickly to rectify it.
Click here to read the full story in the Greeley Tribune.
Corey Hutchins (Colorado Independent)- Anonymous fliers are targeting candidates in the suburban battlegrounds of hotly contested Colorado House and Senate races — a tactic political observers say is a new and troubling development in state campaigns, but not necessarily an illegal one.
The fliers lack the "paid for" disclosures typically seen on election season political leaflets and carry no information about who is behind them.
Click here to read the full story in the Colorado Independent.
Marianne Goodland (Colorado Independent)- With the election only a month away and mail ballots due out in less than two weeks, "gray money" groups are pouring millions of dollars into Colorado's most contentious state House and Senate races.
Four Republican committees have raised $3.5 million in the last two years, and spent more than $700,000 between September 15 and September 30, mostly on advertising. Three Democratic groups raised $6.6 million in the past two years, and between September 15 and September 30 spent $1.6 million, much of it on advertising.
Click here to read the full story in the Colorado Independent.
Tyler Silvy (Greeley Tribune)- A lack of balance in communication about multi-million dollar ballot initiatives has put many northern Colorado school districts in apparent violation of Colorado's Fair Campaign Practices Act.
The act, among other things, requires government entities to include arguments for and against proposals if those entities have used taxpayer dollars to create communications about the proposals.
Click here to read the full story in the Greeley Tribune.
Luis Toro (Colorado Independent)- A federal lawsuit is currently challenging Colorado's unique system under which private citizens enforce campaign finance laws at their own expense in an administrative law court. The suit was filed by the target of one such lawsuit and is being prosecuted with the help of Washington, D.C. based lawyers.
While the suit is being cheered on by opponents of strong regulation of money in politics, those who support such regulation should be concerned about the outsourcing of campaign finance enforcement to the private sector.
Click here to read the full story in the Colorado Independent.
Today, Colorado Ethics Watch submitted comments on proposed changes to the state campaign finance rules. The rule changes were primarily designed to implement new laws regarding school board elections and small groups involved in ballot initiative advocacy, however, Colorado Secretary of State Wayne Williams also proposes to eliminate a rule, first enacted in 1999, that establishes guidelines for when the Secretary of State will initiate a campaign finance enforcement action. That rule allows the Secretary of State to notify filers of technical violations and give them an opportunity to cure the violation before a complaint is filed.
Instead of repealing the rule, Ethics Watch urges the Secretary to strengthen it. The state's TRACER system already provides notices to filers when they have missed a filing. Ethics Watch urges the state to modify the on-line filing system to flag technical reporting violations such as failure to provide employment information for persons who give $100 or more to a committee. If the rule is repealed, the only recourse for such violations will be the state's cumbersome and expensive litigation system for campaign finance violations.
Ethics Watch also provided comments to help clarify and strengthen rules implementing new laws regarding school board elections and ballot issue committees that raise and spend less than $5000.
Ethics Watch's comments were submitted in advance of a public hearing to be held Tuesday, July 26 at 9:00 a.m. at the Colorado Secretary of State's office.
Click here to read Ethics Watch's comments.