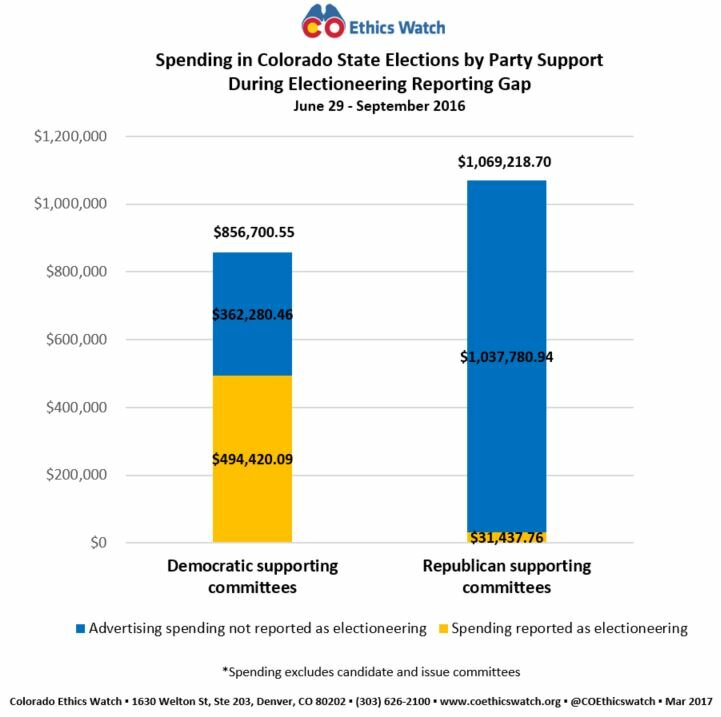 Research by Colorado Ethics Watch shows that at least $1.9 million was spent on political ads during the gap between the date of the 2016 primary and the beginning of the 60-day electioneering communication disclosure window.
Ethics Watch reviewed political spending by groups that file disclosures with the Colorado Secretary of State for the period between June 29 and September 8, 2016. This period was chosen because groups were not required to report spending as electioneering in the gap right after the primary election and sixty days prior to the general election when spending on electioneering communications, defined as ads that name candidates without necessarily urging a vote for or against them (including so-called "call and tell" ads) must be disclosed pursuant to Colorado's electioneering communications disclosure law.
The $1.9 million figure is almost certainly on the low end because Ethics Watch could only review spending by groups that must disclose all their spending to the Secretary of State under other laws. These include political parties, independent expenditure committees (Super PACs), PACs, and so-called "527" political organizations. During the gap, however, these reports can disclose lump sums for "advertising" but omit important information detailing which candidates were the targets or beneficiaries of the spending. 501(c)(4) organizations and other groups not required to file regular reports with the Secretary of State are not required to file any disclosures for candidate-specific spending during the summer gap, so it is not possible to know exactly how much political advertising was purchased during this time period.
Breaking the spending down by the parties groups traditionally support, Republican-supporting groups outspent Democratic groups by a slim margin. Democratic-supporting groups were more likely to label their spending as an electioneering communication despite the fact that such reporting is not required during this disclosure gap period.
"The traditional sixty-day window before the general election for electioneering disclosure is based on an outmoded belief that the election doesn't really start until around Labor Day," said Luis Toro, Executive Director of Colorado Ethics Watch. "We hope Colorado's laws will be updated to reflect the reality that electioneering for the general election starts the day after the primary and continues through November."
Click here to read a summary of Ethics Watch's findings.
David Sirota (International Business Times)- In the latest salvo in an intensifying national battle over climate change policy and fossil fuel extraction, Colorado Attorney General Cynthia Coffman filed a lawsuit to aimed at preventing local communities from restricting hydraulic fracturing. The Republican's lawsuit on behalf of the powerful oil and gas industry comes only a few years after fossil fuel industry campaign cash boosted her campaign for public office.
Republicans have traditionally portrayed themselves as supporters of local control; during a presidential campaign visit to Colorado, Donald Trump said he supported local officials' right to restrict fracking. But Coffman's lawsuit aims to overturn moratoriums on fracking passed by Boulder County officials who said they wanted to develop detailed plans for orderly fossil fuel development.
Click here to read the full story in the International Business Times.
The top race for the state legislature in 2016, at least in terms of spending by the candidates, was the contest between Republican incumbent Sen. Laura Woods of Westminster and Democratic challenger and former state Sen. Rachel Zenzinger of Arvada.
Click here to read the rest of the story at the Colorado Independent.
Joey Bunch (Colorado Politics)- Races for the legislature, county commissions and district attorneys across Colorado got a big kick in donations once mail ballots went out, Colorado Ethics Watch found by parsing campaign disclosures on file with the state.
Outside groups spent more than $3.7 million of the $11.5 million they put into state races after Oct. 24, Ethics Watch found
Click here to read the full story in Colorado Politics.
Click here to read the full report by Colorado Ethics Watch.
Approximately one-third of all the outside spending on Colorado state candidate elections happened between October 24, when polls opened, and Election Day, according to a review of public records conducted by Colorado Ethics Watch.
Under Colorado law, outside groups that make independent expenditures to support or oppose candidates during the last days before a primary or general election must file reports of their spending within 48 hours. During the rest of the year, independent expenditures are disclosed in reports filed on a calendar that varies depending on how close it is to an election. By reviewing these reports, Ethics Watch was able to determine that approximately $11.5 million was spent on disclosed independent expenditures on Colorado state and local races during 2016. Of this total, just over $3.7 million was spent while polls were open.
Nearly a million dollars, or eight percent of all independent expenditures during 2016 occurred on a single day, October 28. This spending spike was largely due to a $439,855 expenditure made by a group called Colorado Safety & Justice, which in turn had just received a $420,000 donation from businessman George Soros. The expenditure was made to support Jake Lilly, a candidate for District Attorney in the First Judicial District (Jefferson and Gilpin Counties).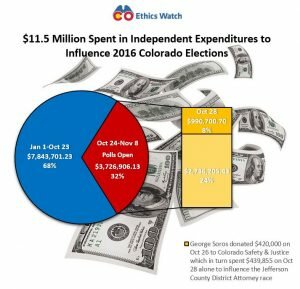 Joey Bunch (Colorado Springs Gazette)- If money equals political speech, then the voice of God has largely been silent in Colorado during this election.
Normally a powerhouse bloc, faith-based political organizations' donations have been rare, campaign finance reports indicate, partly because neither Donald Trump nor Hillary Clinton inspire Christian fervor. Typical wedge issues such as abortion and gay rights aren't on the ballot to drive political contributions or turnout.
Click here to read the full story in the Colorado Springs Gazette.
Editorial Board (Greeley Tribune)- We have a hard time placing a lot of blame on area schools and school districts for their potential violations of Colorado's Fair Campaign Practices Act.
Ultimately the districts are responsible for their actions so, yes, some of the blame does land at the feet of those districts. That said, it appears they did every reasonable thing within their power to avoid such a misstep and when they found out a mistake had been made, then moved quickly to rectify it.
Click here to read the full story in the Greeley Tribune.
Corey Hutchins (Colorado Independent)- Anonymous fliers are targeting candidates in the suburban battlegrounds of hotly contested Colorado House and Senate races — a tactic political observers say is a new and troubling development in state campaigns, but not necessarily an illegal one.
The fliers lack the "paid for" disclosures typically seen on election season political leaflets and carry no information about who is behind them.
Click here to read the full story in the Colorado Independent.
Marianne Goodland (Colorado Independent)- With the election only a month away and mail ballots due out in less than two weeks, "gray money" groups are pouring millions of dollars into Colorado's most contentious state House and Senate races.
Four Republican committees have raised $3.5 million in the last two years, and spent more than $700,000 between September 15 and September 30, mostly on advertising. Three Democratic groups raised $6.6 million in the past two years, and between September 15 and September 30 spent $1.6 million, much of it on advertising.
Click here to read the full story in the Colorado Independent.