Dan Njegomir (Colorado Politics)- Not long ago, libertarian-leaning Reason magazine ran an expose of Colorado's convoluted campaign-finance law and how it invites abuse by those who manipulate it to clobber — and silence — their political foes. We blogged on the article at the time, noting its focus on controversial Colorado political operative Matt Arnold and his business, Campaign Integrity Watchdog, as Exhibit A.
The article characterized Arnold essentially as a serial complainant who files pretextual and vindictive actions over minor clerical errors found in the campaign disclosures of candidates and other entities covered by the campaign-finance law. The actions are often filed at the last possible moment. That runs up the meter on the fines — not to mention legal fees — that the targets must fork over. The law has no screening process for such complaints, Reason points out; it's come one, come all. And all must be turned over, indiscriminately, to the Office of Administrative Courts to sort out.
Click here to read the full story in Colorado Politics.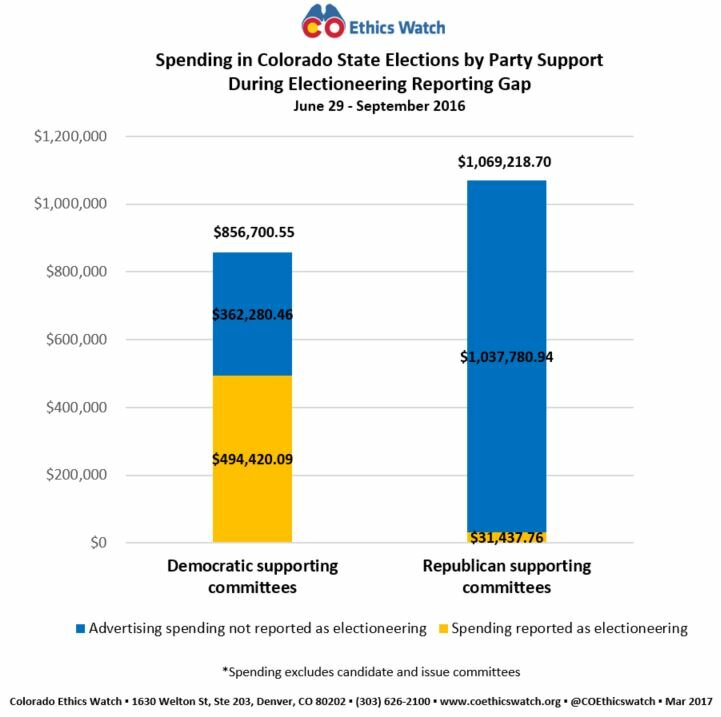 Research by Colorado Ethics Watch shows that at least $1.9 million was spent on political ads during the gap between the date of the 2016 primary and the beginning of the 60-day electioneering communication disclosure window.
Ethics Watch reviewed political spending by groups that file disclosures with the Colorado Secretary of State for the period between June 29 and September 8, 2016. This period was chosen because groups were not required to report spending as electioneering in the gap right after the primary election and sixty days prior to the general election when spending on electioneering communications, defined as ads that name candidates without necessarily urging a vote for or against them (including so-called "call and tell" ads) must be disclosed pursuant to Colorado's electioneering communications disclosure law.
The $1.9 million figure is almost certainly on the low end because Ethics Watch could only review spending by groups that must disclose all their spending to the Secretary of State under other laws. These include political parties, independent expenditure committees (Super PACs), PACs, and so-called "527" political organizations. During the gap, however, these reports can disclose lump sums for "advertising" but omit important information detailing which candidates were the targets or beneficiaries of the spending. 501(c)(4) organizations and other groups not required to file regular reports with the Secretary of State are not required to file any disclosures for candidate-specific spending during the summer gap, so it is not possible to know exactly how much political advertising was purchased during this time period.
Breaking the spending down by the parties groups traditionally support, Republican-supporting groups outspent Democratic groups by a slim margin. Democratic-supporting groups were more likely to label their spending as an electioneering communication despite the fact that such reporting is not required during this disclosure gap period.
"The traditional sixty-day window before the general election for electioneering disclosure is based on an outmoded belief that the election doesn't really start until around Labor Day," said Luis Toro, Executive Director of Colorado Ethics Watch. "We hope Colorado's laws will be updated to reflect the reality that electioneering for the general election starts the day after the primary and continues through November."
Click here to read a summary of Ethics Watch's findings.
Yesterday, the Senate State, Veterans, and Military Affairs Committee considered a bill to modernize and update the Colorado Open Records Act, and the bill passed 4-1 with five amendments. It now goes to the Senate Appropriations Committee. Luis Toro issued the following statement:
"As we highlighted in our 2013 report, 21st Century Sunshine, CORA is in desperate need of modernization for the digital age. Ethics Watch has participated in a task force over the past year working to modernize CORA, specifically on the issue of digital records. Currently, data that exists in searchable formats like Excel is turned over in unsearchable format like paper copies or pdfs by records custodians, a process allowed by the current CORA law. The task force worked all year to craft a compromise bill that would address the concerns of requestors and records custodians.
Ethics Watch remains committed to the core concepts of CORA reform from the working group that would ensure digital records are accessible in a searchable format. We are still reviewing the amendments passed yesterday to make sure they will not have the effect of reducing public access to government records."
Nick Coltrain (The Coloradoan)- Proposed last-minute changes to to Sen. John Kefalas' open records bill could remove swaths of currently available information from disclosure, open records advocates say.
The bill, which has been set for hearing twice and twice been delayed, will be heard at 1:30 p.m. Wednesday by the Senate's State, Veterans and Military Affairs Committee.
Chief Colorado Deputy Attorney General David Blake introduced the changes during the flurry of Kefalas' bill, SB17-040, being pulled and rescheduled.
Click here to read the full story in The Coloradoan.
Pam Zubeck (Colorado Springs Independent) – A bill that would allow those who request public records and the records custodian to mediate a solution is opposed by several agencies who serve as watchdogs for the public interest.
Click here to read the rest of the story in the Colorado Springs Independent.
Jeffrey Roberts (Colorado Freedom of Information Coalition)- A Colorado House bill introduced this week is intended to encourage records requesters and government entities to resolve disputes through mediation rather than in the court system.
Litigation currently is the only legal remedy for challenging a denial of public records under the Colorado Open Records Act (CORA), and many people give up rather than file a lawsuit. Rep. Cole Wist said his proposal, HB 17-1177, offers an alternative.
Click here to read the full story by Colorado Freedom of Information Coalition.
John Tomasic (Colorado Statesman)- Senate committee hearing on a much-anticipated state open records bill was postponed Monday, taking the bill sponsor and witnesses lined up to testify by surprise.
Senate Bill 40 was set to be heard in the Republican-controlled State Affairs committee this afternoon. News of the delay was announced on the floor of the Senate this morning just hours before testimony was scheduled to begin. Sources said the reason for the delay was simply to provide committee members with additional time to gather information.
Click here to read the full story in the Colorado Statesman.
Tyler Silvy (Greeley Tribune)- A $45,000 comprehensive assessment of University of Northern Colorado President Kay Norton's performance was completed without documentation, a departure from surrounding universities' practices, rules for UNC faculty evaluations and standard practice for a consultant who engages in similar work.
It has also drawn the ire of government transparency advocates around the state.
Click here to read the full story in the Greeley Tribune.
Jeffrey Roberts (Colorado Freedom of Information Coalition)- Will 2016 be remembered as the year we realized just how much our democracy depends on an informed citizenry?
The growing proliferation of fake news – fabricated, often outlandish reports fashioned to resemble authentic journalism – stunned many of us as it threatened to undermine our electoral process. It threatened the lives of real people, too, in a Washington, D.C. pizza parlor.
Click here to read the full story at Colorado Freedom of Information Coalition.