Marianne Goodland (Colorado Politics) – In just over two weeks, the Colorado Independent Ethics Commission will hold a formal hearing to determine whether Sen. Vicki Marble violated the state's ethics law concerning gifts to lawmakers.
The Commission worked through pre-trial motions Thursday in preparation for the Jan. 8 meeting, which could feature testimony by Marble, an Extraction Oil & Gas employee and Marble's legislative aide. The five-member group could rule on the complaint following the hearing.
Last June the ethics body decided to investigate a complaint filed against the Fort Collins Republican by Sarah Hall Mann of Broomfield. The complaint deals with a Feb. 15 town hall hosted by Marble at a Broomfield restaurant. The event was paid for by Brian Cain, a media relations spokesperson for Extraction Oil & Gas.
Click here to read the rest of the story in Colorado Politics.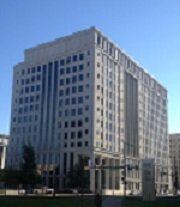 Marianne Goodland (Colorado Independent) — Once Colorado's secretive Independent Ethics Commission dismisses a complaint as frivolous, it cannot be appealed to any higher court.
That's the decision the Colorado Supreme Court made today on a 4-3 ruling.
The case involved Colorado Ethics Watch, which filed an an ethics complaint against an Elbert County commissioner, which the Ethics Commission dubbed frivolous.
Click here to read the full story in the Colorado Independent.
Peter Jones (The Villager)-
A recreational-marijuana store called the Smokin' Gun is smoldering at the center of the latest controversy to hit Glendale, but the elected leader says his fingerprints won't be found.
Mayor Mike Dunafon disputes a complaint from the nonprofit, Colorado Ethics Watch, which accuses the city leader of not appropriately recusing himself last year from a City Council vote approving Smokin' Gun, a new pot-retail outlet owned by his now-wife.
Click here to read the full story in The Villager.
Kristen Wyatt (Associated Press)-
Colorado's newest pot shop has some wondering whether strippers and weed are too closely aligned on a busy highway just east of downtown Denver.
The Smokin Gun Apothecary opened on a site formerly occupied by the Denver area's best known strip club, Shotgun Willie's. The strip club hasn't gone away — it's moved just across the parking lot, testing ethical and potentially legal issues about the state's growing legal recreational pot industry.
Click here to read the full story in the Colorado Springs Gazette.
Brendaliss Gonzalez (Denver Channel)- Colorado Ethics Watch claims the mayor had a financial interest when he cast the vote.
According to the city council minutes taken at the meeting on Feb. of 2015, Mayor Mike Dunafon originally recused himself from the vote concerning granting the approval to open the Smokin' Gun Apothecary next to Shotgun Willie's, a strip club also owned by the mayor's wife.
Click here to read the full story on the Denver Channel.
Carlos Illescas (Denver Post)- Colorado Ethics Watch has filed a complaint with the city of Glendale, asking that the City Council censure Mayor Mike Dunafon after he voted to approve a plan for a new recreational marijuana store owned by his now-wife.
His wife, Debbie Matthews, is majority owner of the Smokin Gun, a recreational marijuana store on Colorado Boulevard that is scheduled to open as soon as next week.
Gabrielle Porter (High Timber Times)- A Colorado Springs-based watchdog organization has accused groups involved in instigating the recall of three Jeffco school members of violating state campaign finance laws in two lawsuits that will go before Colorado's Office of Administrative Courts.
Colorado Government Watch alleged in an Oct. 13 complaint that nonprofit groups Jeffco United and Support Jeffco Kids — both of which have ties to the organization that initiated the recall of conservative school board members John Newkirk, Ken Witt and Julie Williams — are acting as financial pass-throughs for campaign funds while their nonprofit status protects them from disclosing donors. Colorado Government Watch wants the state to require both groups to register as issue committees, which would force them to disclose their donors, said director Dede Laugesen.
Click here to read the full story in High Timber Times.
Pam Zubeck (Colorado Springs Independent)- This week City Councilor Helen Collins and her ally, anti-tax activist Douglas Bruce, filed an ethics complaint against "the Gang of 8" — her Council colleagues — as well as several other officials. The seven-page complaint, which cites 15 alleged breaches, comes amid efforts to schedule a hearing on Collins' own ethics violations. But the latest complaint shouldn't impede Council's handling of Collins' case, says Luis Toro, director of Colorado Ethics Watch.
"This is kind of an old stunt," Toro says. "The fact that she filed something against them doesn't necessarily mean they can't decide the case in front of them. Otherwise, it would be too easy for people to stunt their way out of an ethics complaint."
Click here to read the full story in the Colorado Springs Independent