Steve Zanzberg (The Coloradoan)- On Thursday, Gov. John Hickenlooper signed into law Senate Bill 17-40, which was introduced by Sen. John Kefalas (D, Fort Collins).
All Coloradans owe both men, and several other elected officials, a huge debt of gratitude. The new law makes express a guarantee that those of us in the "records requester community" had previously argued was implicit in the Colorado's Open Records Act: the right of all Coloradans to receive digitized copies of public records that the government maintains in a digitized format.
Click here to read the full story in the Coloradoan.
John Tomasic (Colorado Statesman)- The Colorado Open Records Act this year will receive a long-overdue digital-era update after Senate Bill 40 on Wednesday ended its switchback journey over the entire course of the 120-day legislative session Wednesday, finishing in the Senate with an against-all-odds unanimous vote of support.
"No one would have guessed it would receive all 35 votes in the Senate," said sponsor Sen. John Kefalas, a Democrat from Fort Collins. "I think the bill does move the dial forward in meaningful ways and brings up the window just a tad in granting greater access to records that belong to the people.
"We have made progress. We haven't hurt CORA. There's more work to be done," he said.
Click here to read the full story in the Colorado Statesman.
Jeffrey Roberts (Colorado Freedom of Information Coalition)- An 18-month push to update Colorado's open-records law for the digital age culminated Wednesday in the final passage of a bill that clarifies the public's right to copies of electronic government records in useful file formats that permit analysis of information in those records.
Senate Bill 17-040 heads to Gov. John Hickenlooper's desk after passing the House on a 39-26 vote and then repassing the Senate unanimously, all on the last day of the 2017 legislative session.
The measure is intended to bar government entities from providing printouts of databases and spreadsheets when people ask for public records kept in databases and spreadsheets. No longer will governments be permitted to provide searchable records in non-searchable formats such as image-only PDFs.
Click here to read the full story in Colorado Freedom of Information Coalition.
Joey Bunch (Colorado Springs Gazette)- My friend and former coworker Jeffrey Roberts says legislation to help people seeking public records avoid a courtroom to get them is getting a retrial.
On the Colorado Freedom of Information Coalition blog, Roberts said House Bill 1177 was reworked to create a cooling off period, a meeting between the record requester and its custodian and shared cost for mediation, which is about $75 an hour.
The House State, Veterans and Military Affairs Committee passed the legislation 9-0 Thursday and moves next to the House floor.
Click here to read the full story in the Colorado Springs Gazette.
Jason Salzman (Huffington Post)- The publisher of the Grand Junction Sentinel insisted Wednesday night that he's getting his "ducks in a row" in preparation to sue Colorado State Sen. Ray Scott (R-Grand Junction) for labeling the Sentinel "fake news."
"Have you attempted to patch things up with Sen. Scott?" 9News anchor Kyle Clark asked Jay Seaton, publisher of the Grand Junction Sentinel last night, prior to panel discussion on media issues streamed on Facebook. "You're going to be covering him for years to come. There's nothing to be gained by media outlets fighting with public officials like this."
Click here to read the full story in Huffington Post.
Jeffrey Roberts (Colorado Freedom of Information Coalition)- A Colorado House committee Thursday endorsed a completely reworked proposal to encourage the resolution of open-records disputes without litigation.
The new version of HB 17-1177 essentially makes mediation optional. If a requester files a notice of intent to sue over a records denial, a government entity would have 14 days to meet with the requester in person or by phone. A professional mediator would get involved if both parties agree and share the cost.
Click here to read the full story in Colorado Freedom of Information Coalition.
Nicole Vap (9News)- KUSA – Let's have a conversation about "fake news" stories, and the truth.
9NEWS and Next anchor Kyle Clark hosted a panel discussion about fighting "fake news" in a time of "alternative facts."
Our conversation included Jay Seaton, publisher of the Grand Junction Daily Sentinel, will talk about his threats to sue a state senator for defamation after the senator described the paper as "fake news." Sen. Ray Scott, a West Slope Republican, accused the Sentinel of printing "fake news" following a story about a pending bill to change the state's public records law. Sen. Scott declined multiple invitations to take part in the interview, citing the pending lawsuit. He said he would change his mind if Seaton "swears off his lawsuit".
You can see our full panel discussion here.
Click here to read the full story on 9News.
Dan Njegomir (Colorado Politics)- Not long ago, libertarian-leaning Reason magazine ran an expose of Colorado's convoluted campaign-finance law and how it invites abuse by those who manipulate it to clobber — and silence — their political foes. We blogged on the article at the time, noting its focus on controversial Colorado political operative Matt Arnold and his business, Campaign Integrity Watchdog, as Exhibit A.
The article characterized Arnold essentially as a serial complainant who files pretextual and vindictive actions over minor clerical errors found in the campaign disclosures of candidates and other entities covered by the campaign-finance law. The actions are often filed at the last possible moment. That runs up the meter on the fines — not to mention legal fees — that the targets must fork over. The law has no screening process for such complaints, Reason points out; it's come one, come all. And all must be turned over, indiscriminately, to the Office of Administrative Courts to sort out.
Click here to read the full story in Colorado Politics.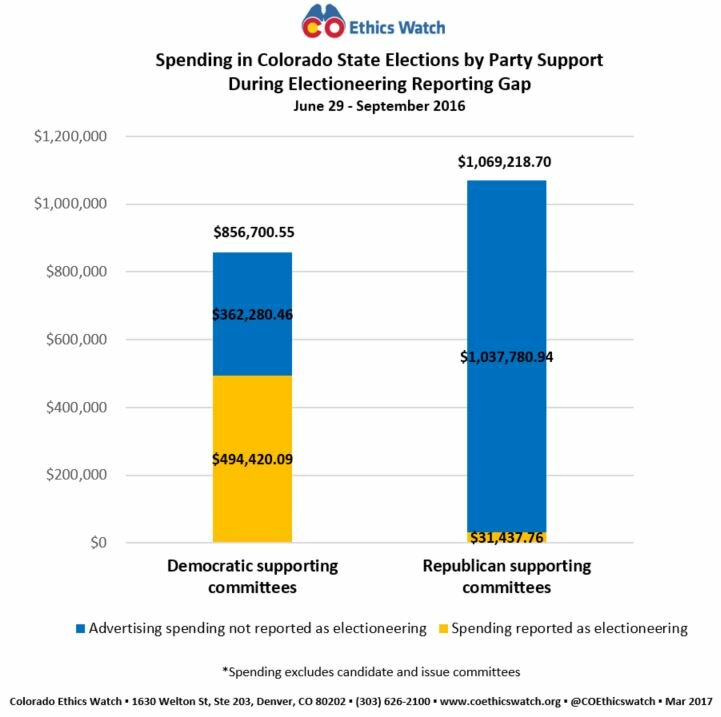 Research by Colorado Ethics Watch shows that at least $1.9 million was spent on political ads during the gap between the date of the 2016 primary and the beginning of the 60-day electioneering communication disclosure window.
Ethics Watch reviewed political spending by groups that file disclosures with the Colorado Secretary of State for the period between June 29 and September 8, 2016. This period was chosen because groups were not required to report spending as electioneering in the gap right after the primary election and sixty days prior to the general election when spending on electioneering communications, defined as ads that name candidates without necessarily urging a vote for or against them (including so-called "call and tell" ads) must be disclosed pursuant to Colorado's electioneering communications disclosure law.
The $1.9 million figure is almost certainly on the low end because Ethics Watch could only review spending by groups that must disclose all their spending to the Secretary of State under other laws. These include political parties, independent expenditure committees (Super PACs), PACs, and so-called "527" political organizations. During the gap, however, these reports can disclose lump sums for "advertising" but omit important information detailing which candidates were the targets or beneficiaries of the spending. 501(c)(4) organizations and other groups not required to file regular reports with the Secretary of State are not required to file any disclosures for candidate-specific spending during the summer gap, so it is not possible to know exactly how much political advertising was purchased during this time period.
Breaking the spending down by the parties groups traditionally support, Republican-supporting groups outspent Democratic groups by a slim margin. Democratic-supporting groups were more likely to label their spending as an electioneering communication despite the fact that such reporting is not required during this disclosure gap period.
"The traditional sixty-day window before the general election for electioneering disclosure is based on an outmoded belief that the election doesn't really start until around Labor Day," said Luis Toro, Executive Director of Colorado Ethics Watch. "We hope Colorado's laws will be updated to reflect the reality that electioneering for the general election starts the day after the primary and continues through November."
Click here to read a summary of Ethics Watch's findings.
Yesterday, the Senate State, Veterans, and Military Affairs Committee considered a bill to modernize and update the Colorado Open Records Act, and the bill passed 4-1 with five amendments. It now goes to the Senate Appropriations Committee. Luis Toro issued the following statement:
"As we highlighted in our 2013 report, 21st Century Sunshine, CORA is in desperate need of modernization for the digital age. Ethics Watch has participated in a task force over the past year working to modernize CORA, specifically on the issue of digital records. Currently, data that exists in searchable formats like Excel is turned over in unsearchable format like paper copies or pdfs by records custodians, a process allowed by the current CORA law. The task force worked all year to craft a compromise bill that would address the concerns of requestors and records custodians.
Ethics Watch remains committed to the core concepts of CORA reform from the working group that would ensure digital records are accessible in a searchable format. We are still reviewing the amendments passed yesterday to make sure they will not have the effect of reducing public access to government records."